What is Denver Shoulder
Denver Shoulder is a focused group of surgeons and physician assistants at Western Orthopaedics PC who are dedicated to excellence in the treatment of shoulder and elbow problems. Our board-certified subspecialty trained providers have spent extra fellowship time around the globe in the treatment of shoulder and elbow and have a committed focus to providing you the best care possible. Our surgeons are nationally and world renowned for their experience and advanced treatment of shoulder and elbow arthritis, fractures, and sports medicine injuries. They have performed thousands of open and arthroscopic shoulder procedures and have collected the patient reported outcomes that demonstrate their objective results. Whether it is a simple repair or a complex procedure that you require, the surgeons at Denver Shoulder will give you personalized world class care in the heart of the Rocky Mountains.
Why Visit the Denver Shoulder Team Instead of Another Orthopedic Group?
This answer is simple. Multiple studies clearly show that high-volume shoulder surgeons produce the best results for their patients.
The Denver Shoulder team has dedicated their practice to the treatment of shoulders. They see thousands of patients and perform over a thousand surgeries each year. Additionally, the Denver Shoulder team has advanced shoulder care around the world through participation in education and research and have become recognized leaders among their peers. Although extremely important, it is rare for shoulder surgeons to collect data and publish their surgical outcomes. The Denver Shoulder team has been doing this for 20 years.
If you or a loved one have shoulder issues, you're welcome to make an appointment with the Denver Shoulder team. They are the most experienced and proven shoulder team in the Rockies and will give you the best chance to having a healthy shoulder again.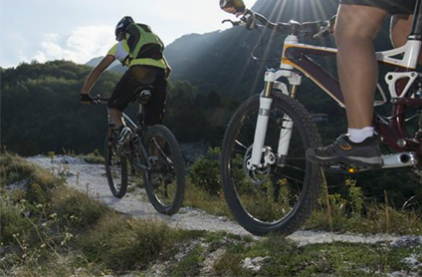 Make an appointment to see our team and let us show you how we get you back on the bike
HERE >>
If you're coming from outside the Denver Metro area, you can find information for your travel
HERE >>
"Dr. Hatzidakis did an amazing right shoulder replacement surgery for me."
HERE >>
Common
Shoulder
conditions
Impingement
Rotator cuff tears
Arthritis
Dislocation or separation
Fractures
Bursitis
Inflammation
Instability
Arthritis
Fracture
Rheumatoid arthritis
Post-traumatic arthritis
Rotator cuff tear arthropathy
Avascular necrosis (osteonecrosis)
Severe fractures
Failed previous shoulder
replacement surgery
Immobilization (sling)
Anti-inflammatory
medications
Corticosteroid injections
Rest
Physical therapy
Regenerative medicine
Replacement surgery
"Dr. Hatzidakis did an amazing right shoulder replacement surgery for me."

Mary B.